ENTERPRISE
With great pleasure we would like to inform that Kancelaria Accountants Group since April 2014 has become a part of Apertus Group Sp. z o.o.
We provide a wide range of services in the accountancy, finance and economic advisory sectors as a professional and effective instrument in the company management.
For more then 14 years we are cooperating with small and medium companies (MSP) present on the Polish and European markets, according to Polish law and the expectations of our clients, giving them professional and complex support as a part of our service.
For us bookkeeping is more than just preparing the tax declarations and taking care of the payments; the well-prepared accountancy is the beginning of the financial managing, including the cash flow. We call the cash flow our brand!
For us each of our Client is an individual – the provided services are especially adjusted to Your needs. We understand that effective financial management is a guarantee of success, so we share our knowledge with You. Being part of your success gives us a true satisfaction!
Our team of employees includes the specialists in the accountancy and finance, with many-years experience as independent accountants in international companies from various sectors and also from respective auditor companies.
The Chairwoman of the Board Agnieszka Kordalewska has the Polish Ministry of Finance certificate no. 627/03 which is the legal permit for outsourcing accounting services; has more than 20 years experience in accounting and financial fields, gained in "Big 4", following international corporations.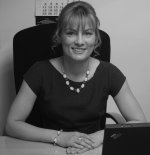 Agnieszka Kordalewska for many years held the post of Chief Accountant and Chief Financial in companies with foreign capital, in different sectors of the economy. She was also the Chairwoman of the Board in daughter-company of BDO with success. Since 1995 she is an effective manager of teams of accountants.
In her professional career she was responsible for i.e. correct bookkeeping; supervision and control of financial departments; compilation of business plans, financial analyses and budgets; co-creation of internal accounting and controlling systems; reporting to the management according to Polish and international standards. Due to wide range of clients and sectors of their economic activity she cooperates with the biggest auditor companies, with great results, her financial statements are published in Monitor Polski (governmental publication).